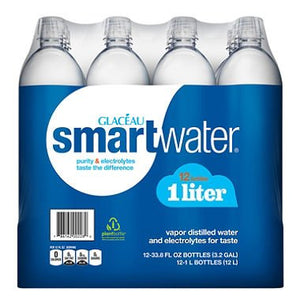 Vapor-distilled with electrolytes added for taste, smartwater offers a bottled water that's simple, pure, and delicious.
Smartwater is a purified water made using vapor distillation, a purification process that stimulates the hydrologic cycle — similar to the way water is purified in nature.
Containing a unique blend of calcium, magnesium, and potassium, smartwater creates a taste that is distinctly fresh, crisp, and pure.
Free of sugar, calories, coloring, and artificial flavors, smartwater is the smart way to hydrate and quench your thirst in the office, at home, or on the go.
Environmentally conscious bottle is up to 30% plant-based and 100% recyclable.